About us
The team here at Modesto Bankruptcy Attorneys was hand-picked with one goal in mind, to provide the Modesto community with a trusted and highly knowledgeable group of attorneys to step in and fight for a person's financial freedom. Modesto Bankruptcy Attorneys realize that a considerable portion of the local community at some point in their lives deal with an unfortunate financial struggle, be it a job loss and not knowing how they can continue to pay their current obligations, a medical condition resulting in high medical bills, or a pending home foreclosure that is threatening to take away a person's home. No matter the situation, we are here to help.
With over 18 years of experience here at Modesto Bankruptcy Attorneys, we provide clients with a first-class resource for all of their Bankruptcy questions and concerns. Our office has the capability and intellect to quickly and thoroughly analyze a person's financial situation, provide that client with a clear understanding of what their options are, and immediately craft a strategy to alleviate a person's financial burden.
WHAT DO WE DO?
Our practice at Modesto Bankruptcy Attorneys is 100% focused on Bankruptcy and financial assistance to our clients. We want to provide our clients with top-notch legal representation in their Bankruptcy matters. Below is a list of common situations where we commonly help our clients:
Buried in credit card debt with no light at the end of the tunnel.
Suffered a medical situation resulting in astronomical medical bills.
Resorting to taking out high interest loans that are near impossible to pay back.
Fallen delinquent on a mortgage and fear that the bank will soon foreclose.
Sued by a debt collector and not sure what to do.
Notified by an employer that your wages are going to be garnished.
Capable of paying the debt down if the interest were to stop accruing.
WHAT SETS US APART
When hiring a Bankruptcy Attorney, you want to make sure that the person or team that you hire is fully focused on navigating you successfully through the complicated world of Bankruptcy Law. Here at Modesto Bankruptcy Attorneys, we focus 100% of our time and energy on Bankruptcy and Financial Assistance. Our team has practiced Bankruptcy Law here in the Eastern District of California dating back to 2010. We are deeply versed in the Local Rules of the Court as well as the Bankruptcy Code itself.
TECHNOLOGICALLY SUPERIOR
In this day and age, it is important to understand that the most precious commodity that we have is time. With that as the basis, Modesto Bankruptcy Attorneys has in place highly superior technology to ensure that our clients' time is valued. We strive to make the process of filing for Bankruptcy relief as smooth and pain-free as possible. Our team at Modesto Bankruptcy Attorneys uses the most up to date software and tools in order to efficiently and quickly move a client's Bankruptcy case forward.
DEEP ROOTS IN MODESTO
We understand that each community has different needs; each city has problems that might not be relevant elsewhere. Thus, in order to fully provide Modesto with exceptional legal counsel, it is at the utmost importance that the firm actually understands the city. Modesto Bankruptcy Attorneys understand that Modesto is built on the foundation of a hard-working community. We also acknowledge that sometimes this community has fallen on hard times financially. Modesto Bankruptcy Attorneys is here to provide representation for the local community that has always shown that they are willing to put up a fight.
PAULDEEP BAINS, ESQ.
Mr. Bains is one of the cornerstones in the local Bankruptcy community. Mr. Bains has spent his entire legal career, which began in 2009, studying Bankruptcy Law, working as Bankruptcy Attorney, and providing his clients with first-class representation in their Bankruptcy matters.
Mr. Bains began his legal career as an associate attorney at a Bankruptcy firm in Roseville, CA. He tirelessly advocated for his clients and began to make a name for himself in the Bankruptcy Court.
From there, Mr. Bains was recruited to manage two offices for another Bankruptcy firm that had offices in Sacramento, Fairfield, Redding, and Reno. As Mr. Bains quickly thrived in this position. Mr. Bains handled cases from inception to the final closing of the respective case. Here, Mr. Bains was handling hundreds of cases each year and treated each case with the utmost care, respect, and the results showed. He successfully steered Chapter 7 cases to their Discharge at an astronomical rate. In the Chapter 13 world, Mr. Bains would craft Chapter 13 plans in order to give his clients the best chance of succeeding.
In 2016, Mr. Bains opened what is now known as one of the most prominent Chapter 7 and Chapter 13 Bankruptcy firms in the greater Sacramento area. Mr. Bains has now assisted over 1,000 community members in their financial struggles. Mr. Bains understands that in order to succeed as a Bankruptcy Attorney, one must be willing to stand up for his clients' rights and fight to get them the best possible resolution every time. It is with that commitment that Mr. Bains focuses his attention in order to continue his success in Bankruptcy Law.
Mr. Bains now holds various awards for his work representing clients in Chapter 7 and Chapter 13 Bankruptcy matters. He was named Top 40 Lawyers Under 40 by the ASLA. In addition, he has been rated by SuperLawyers.com, has received a 10 Best in Client Satisfaction (Bankruptcy Division) by the American Institute of Legal Counsel, and been presented with an AVVO Clients' Choice Award for Bankruptcy Law.
When not practicing law, Mr. Bains enjoys traveling, trying new restaurants, and spending quality time with his wife and two children.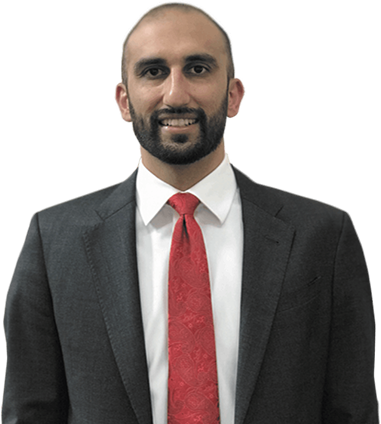 SIMRAN HUNDAL, ESQ.
Mr. Hundal was raised in Modesto, California.  After receiving his Bachelor's Degree from the University of California-Davis, he went on to attend law school at University of the Pacific, McGeorge School of Law.  Mr. Hundal received his Juris Doctor Degree with certificates in Business and Taxation Law and was named to the Dean's Honor List.
Upon passing the California Bar Exam on his first attempt, Mr. Hundal began his legal career working as an associate attorney.  During his time as an associate, Mr. Hundal was able to sharpen his legal skills to effectively serve his clients.   While working as an associate, Mr. Hundal noticed a need for better communication between the attorney and client.  More specifically, he felt that clients should have clear and effective communications with their attorney.  This would result in the client gaining a better understanding of their legal matter as well as having reasonable expectations regarding results.  Overall, this created a more positive experience for all parties involved. 
With a desire to better serve his clients, Mr. Hundal decided to transition into private practice. Mr. Hundal went on to co-found a thriving law firm in Modesto, CA.  Mr. Hundal felt that the Central Valley, and more specifically the city of Modesto, was well underserved with regards to legal representation.  Drawing upon his deep roots to the area, Mr. Hundal has been able to effectively serve clients in several financially related areas of the law, including Bankruptcy Law, Estate Planning, Taxation Matters, Debt Relief, Corporation Law and Property Law.  The combination of Mr. Hundal's deep experience in these legal areas allows him a unique understanding to better serve his clients' Bankruptcy needs.  Mr. Hundal has handled hundreds of matters on behalf of his clients and prides himself on the continued referrals from satisfied clients. 
Mr. Hundal has gained recognition in the legal community as well as the community at large for his effective communication, skills and results.  He proudly offers legal services to the underserved in his community and has provided pro-bono services to individuals in need.
In his spare time, Mr. Hundal enjoys golfing, traveling, and hiking with his wife and two dogs.